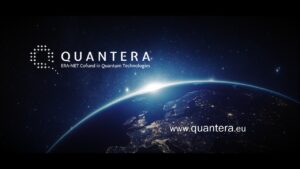 1 March 2023
NQTP partners EPSRC and Innovate UK are inviting UK academics and businesses to participate in the 2023 QuantERA call for transnational research proposals in Quantum Technologies.
A total of £4 million is available to fund UK partners in consortia within the 'Applied Quantum Science' call (AQS), which is being coordinated by the National Science Centre (Poland) and French National Research Agency. £2 million is available from EPSRC to support applicants based at universities and £2 million is available from Innovate UK to support applicants from UK businesses.
The AQS call is aimed at taking known quantum effects and established concepts from quantum science, translating them into technological applications and developing new products. The call is open now and closes on 11th May, with successful projects commencing in January 2024.
UK businesses are required to notify the Innovate UK contact point of their intention to submit as soon as possible, at least three weeks in advance of the submission deadline. UK academics are strongly advised to register their intention to submit by emailing the EPSRC contact point.
For full details, please view the call announcement.
Contacts: