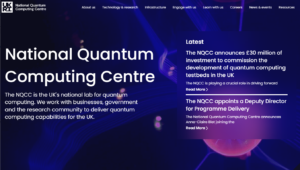 25 September 2023
The National Quantum Computing Centre is excited to announce the launch of its new website!
The NQCC has grown considerably since the start of our programme back in 2020, delivering a wide breadth of activities across the core strands of technology & research, infrastructure & facilities, workforce, and quantum readiness. As the UK's national lab for quantum computing, the new website aims to better reflect the organisation it is today.
Whether you're looking for an online course, want to find out more about their SparQ user engagement programme, or you're interested in their core areas of research and the Quantum Software Lab, the new NQCC website is the place to go. Watch this space as more new content is added and the site continues to develop over time.