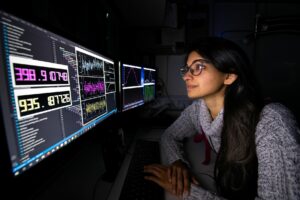 9 February 2023
Researchers in the UK have successfully transferred data between quantum microchips for the first time.
This helps overcome a key obstacle to building a commercial quantum computer.
The milestone achieved by a team from the University of Sussex and Brighton-based quantum computer developer Universal Quantum, allows chips to be linked like a jigsaw.
To find out more, please visit "Quantum microchips connected in record-breaking world first" on the UKRI website.